2018 ESC/EACTS Guidelines on Myocardial Revascularization released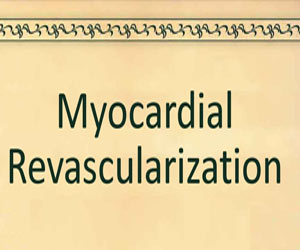 European Society of Cardiology (ESC) and the European Association of Cardiovascular Surgery (EACTS) have jointly developed 2018 ESC/EACTS Guidelines on Myocardial Revascularization. The guidelines aim to advance pragmatic recommendations based on the body of evidence available to support clinical practice.
ESC and the EACTS with the help of joint Task Force of interventional cardiologists, cardiac surgeons, and non-interventional cardiologists have updated the 2010 and 2014 versions of the Guidelines on Myocardial Revascularization. The new guidelines have appeared in the European Heart Journal.
For Myocardial Revascularization and improving prognosis both percutaneous coronary intervention (PCI) and coronary artery bypass grafting (CABG), are effective in alleviating symptoms of myocardial ischaemia.
Major recommendations are -


PCI is associated with faster recovery and lower risk of early events, including stroke whereas CABG is associated with improved survival and reduced risk of spontaneous myocardial infarction and repeat intervention in the long run.


The risk of recurrent ischaemic events is less in CABG and it mainly depends on the complexity of coronary artery disease and the presence of diabetes mellitus.


The long-term outcomes of CABG and PCI are almost the same with low complexity coronary artery disease.


Long term outcome is certainly better with CABG in cases with high complexity, especially when combined with diabetes.


Myocardial revascularization is performed for the relief of symptoms of myocardial ischaemia and the improvement of prognosis. In SCAD, the prognostic benefit is dependent on the extent of myocardium subject to ischaemia.


The prognostic and symptomatic benefits of myocardial revascularization critically depend on the completeness of revascularization. Therefore, the ability to achieve complete revascularization is a key issue when choosing the appropriate treatment strategy.


Apart from issues of individual operative risk and technical feasibility, diabetes mellitus and the anatomical complexity of CAD determine the relative benefits of PCI and CABG.


The SYNTAX score is the recommended tool to gauge the anatomical complexity of the coronary disease.


In some instances, both PCI and CABG are equally reasonable, or sometimes even equally problematic, options. This calls for the Heart Team to be consulted to develop individualized treatment concepts, with respect for the preferences of the patient who has been informed about early and late outcomes.


Timely PCI of the culprit lesion remains the mainstay of treatment of ACS.


After PCI of the culprit lesion in ACS, the choice of further revascularization modality should follow the criteria applied to patients with SCAD.


Radial access is preferred for any PCI irrespective of clinical presentation unless there are overriding procedural considerations.


DES are recommended for any PCI irrespective of clinical presentation, lesion type, anticipated duration of DAPT, or concomitant anticoagulant therapy.


Even though 6 months of DAPT is generally recommended after PCI in SCAD and 12 months of DAPT after ACS, the type and duration of DAPT should be individualized according to the ischaemic and bleeding risks, and appropriately adapted during follow-up. Based on this judgement, treatment durations for DAPT after DES that is as short as 1 month or even as long as lifelong may be reasonable.


Off-pump surgery with no-touch aorta for high-risk patients should be considered when expertise exists.


Multiple arterial grafting should be considered using the radial artery for high-grade stenosis and/or BIMA grafting for patients who do not have an increased risk of sternal wound infection.


For more details click on the link:
https://doi.org/10.1093/eurheartj/ehy394