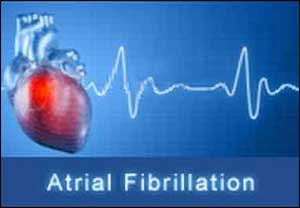 National Heart Foundation of Australia and the Cardiac Society of Australia and New Zealand have released Australian Clinical Guidelines for the Diagnosis and Management of Atrial Fibrillation 2018. The Guidelines for Atrial Fibrillation have appeared in Heart Lung and Circulation.
International Guidelines regarding Atrial Fibrillation are available but these often differ from each other with regards to individual recommendations, and no such guidelines had been developed specifically for the Australian population. Therefore, NHFA and CSANZ resolved to produce Australian guidelines for AF.
Major Recommendations –
Opportunistic point-of-care screening should be conducted in people aged 65 years or older.
Pacemakers and defibrillators should be investigated regularly for atrial high-rate episodes (AHREs) and should be confirmed by an atrial electrocardiogram (EGM) to be atrial fibrillation (AF).
A 12-lead electrocardiogram (ECG) is recommended for all patients with AF.
A transthoracic echocardiogram should be performed in all patients with newly diagnosed AF.
A thyroid stimulating hormone (TSH) test should be undertaken in patients with newly diagnosed AF but should be delayed in acutely ill patients.
In overweight and obese individuals with AF, intensive management of weight (to a target of ≥10% body weight loss, aiming for a BMI below 27) and concomitant management of associated cardiovascular risk factors to target levels should be performed.
Beta-adrenoceptor antagonists or non-dihydropyridine calcium channel antagonists are recommended for acute control of the ventricular rate in hemodynamically stable patients, but caution is needed if given intravenously.
Amiodarone is recommended for acute control of the ventricular rate in highly symptomatic AF patients or those with known left ventricular systolic dysfunction who are not unstable enough to require immediate electrical cardioversion.
Beta-adrenoceptor antagonists, digoxin, and non-dihydropyridine calcium channel antagonists should be the first-line agents for long-term ventricular rate control.
When digoxin is used, serum concentration should be monitored, with the goal of maintaining levels <1.2 ng/mL.
Calcium channel antagonists should be avoided in patients with left ventricular systolic dysfunction (ejection fraction <40%).
Amiodarone should not be administered as a first-line agent for chronic rate control because of its toxicity profile.
Membrane-active antiarrhythmic agents (eg, sotalol or flecainide) should not be used in patients managed with a rate-control strategy.
If pharmacologic rate control fails, catheter ablation of the AV node should be considered after a permanent pacing device has been implanted.
Electrical cardioversion should be performed urgently in hemodynamically unstable patients with AF.
Catheter ablation should be considered for symptomatic paroxysmal or persistent AF refractory or intolerant to at least one Class I or III antiarrhythmic medication.
The CHA2DS2-VA score—the sexless CHA2DS2-VASc score—is recommended for predicting stroke risk in AF.
Oral anticoagulation therapy to prevent stroke and systemic embolism is recommended in patients with non-valvular AF (N-VAF) whose CHA2DS2-VA score is 2 or more, unless there are contraindications to anticoagulation.
Oral anticoagulation therapy to prevent thromboembolism and systemic embolism is not recommended in patients with N-VAF whose CHA2DS2-VA score is 0.
When oral anticoagulation is initiated in a patient with N-VAF, a non-vitamin K oral anticoagulant (NOAC)—apixaban, dabigatran, or rivaroxaban—is recommended in preference to warfarin.
Warfarin is recommended and NOACs should not be used in patients with valvular AF (mechanical heart valves or moderate to severe mitral stenosis).
Antiplatelet therapy is not recommended for stroke prevention in N-VAF patients, regardless of stroke risk.
Where dual antiplatelet therapy is required in combination with OAC, low-dose aspirin (100 mg) and clopidogrel (75 mg) are recommended. Ticagrelor and prasugrel are not recommended in this situation.
Warfarin or acitrom should be used if an AF patient with severe chronic kidney disease requires anticoagulant therapy.
Anticoagulation is recommended at the time of electrical or pharmacologic cardioversion and for at least 4 weeks post procedure.
For further reference log on to :
DOI: https://doi.org/10.1016/j.hlc.2018.06.1043