200 gram egg-shaped cyst removed from womans brain in Asian Institute of Medical Sciences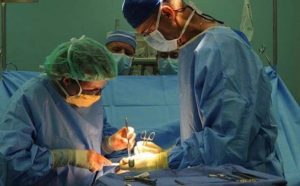 Faridabad : In a rare surgery, doctors at a Asian Institute of Medical Sciences here successfully removed an egg-shaped cyst weighing 200gm from the brain of a woman.
Forty-one-year-old Shanti Devi, a native of Ballabhgarh in Haryana, had approached the doctors with complaints of severe headache and weakness on the right side of her body. She was unable to stand or walk without support.
The doctors at the Asian Institute of Medical Sciences (AIMS) advised MRI of her head and she was diagnosed to be having a large hollow stone like cyst inside her brain.
It had taken the shape of an egg whose external structure was hard. It was surrounded by the brain all over, said Dr Kamal Verma, Director, Department of Neurosurgery at AIMS.
"It was a challenging surgery as we had to remove this egg-shaped cyst completely and in one piece, without causing any damage to the brain. It was about 200gm in weight," Verma said.
The doctors termed it as a high-risk surgery as the cyst was on the left side of the frontal brain that controls speech and movement. The surgery last for four hours.
"The laboratory tests confirmed it to be benign," Verma added.
Tests revealed the cyst was caused by some parasite.
Such parasites in the brain are known to cause soft balloon like cysts in some patients, but this type of hard structure and size has never been reported in medical literature, said Dr Mukesh Panday, Senior consultant, neurosurgeon at AIMS.
Doctors had to be extra careful in removing the cyst as it contained thousands of parasites and toxic fluids.
"Had the fluid leaked out into the brain it could have caused severe reactions or formed more cysts which could have killed the patient," said Pandey.