2 Year old kid suffering from Gross Congenital Hydrocephalus with Megalencephaly successfully treated at Fortis Gurgaon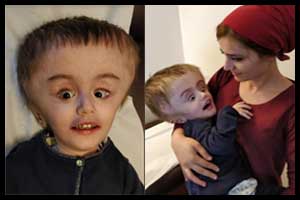 Baby Maryam from Tajikistan was born with a condition that caused her skull to swell.
Delhi/NCR: Doctors at Fortis Memorial Research Institute recently came across a highly complex case. It was the unique case of Baby Maryam from Tajikistan, who was suffering from Congenital Hydrocephalus with megalencephaly (growth developmental disorder in which the brain is abnormally large). She was two years old and was born with 'hydrocephalus', a condition in which the fluid is collected in the brain causing the head size to increase. For Maryam, mobility was next to impossible, and she had been struggling with this condition since she had been one month old. A team of doctors, led by Dr Sandeep Vaishya, Executive Director – Neurosurgery, Fortis Memorial Research Institute, successfully diagnosed and operated the patient's condition by carrying out an extremely risky and rare surgery.
The usual treatment for such a condition is to perform a VP shunt surgery. This involves installing a small tube in the brain to drain the excess fluid. This surgery was performed (in Tajikistan) when Maryam was just eleven months old. It reduced the circumference of her head from 72 cms to 64 cms. However, brain damage had already occurred and the bones had fused together because of which her brain size could not be reduced further. She was also unable to sit up or hold her head up.
Dr. Sandeep Vaishya said, "We were reluctant to perform the surgery as chances of improvement in such cases are extremely low and the risk factors are extremely high. However, the family was ready to give consent despite the risks. We performed eight surgeries on the patient over a period of five months. We managed to reduce the size of the head, but the surgery proved to be extremely challenging. At one point, we almost lost her, but she fought back. Though it is still early, we have noticed some positive changes. Her last CT scan showed good brain development and she has started to lift her head. While there are chances of brain damage, it is her best chance to live a nearly normal life."
Dr. Ritu Garg, Zonal Director, Fortis Memorial Research Institute, Gurugram said, "It was an extremely rare case, fraught with risk of complications and each course of action seemed dangerous. However, I was confident about the team handling the case. Dr. Sandeep Vaishya is a pioneer in his field and has previously handled numerous such cases. He is experienced and adept at intricately handling the elaborate nexus of the brain. Maryam's post-operation phase was smooth and we have been monitoring her closely."
The family of the patient said, "Dr Sandeep Vaishya in 2013 had successfully operated Baby Roona Begum (from Tripura, India) who had the record of having the largest head in the world (94 cms) at the age of nine months. This case was covered by CNN and Discovery channel made a documentary on the child. This was seen by us and we came here for the surgery. Prior to the treatment, we were scared and had lost all hope. Maryam had previously undergone a shunt installation at Tajikistan but we knew she would eventually have to go through surgery again. I am hopeful that Maryam will be able to lead a better quality of life post the surgery.
Source : Press release