160-kg man walks on prosthetic limb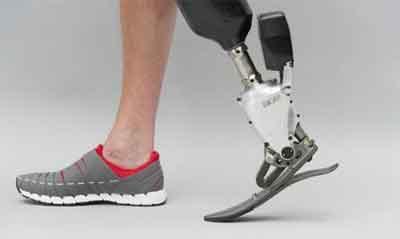 Dana Crider, 65, an American national weighing 160 kg has been successfully implanted of a prosthetic limb and being able to walk on it despite being extremely overweight. He had lost one of his legs due to a myopathy for which he decided to go in for a prosthetic limb implant.
Dana Crider ,a former Maths teacher at Mussoorie's Woodstock School and an avid lover of trekking has created history by walking on an implanted prosthetic limb despite being enormously overweight
The team of doctors headed by Dr Vijay Nautiyal who were treating him at a Dehradun hospital were highly skeptical of success of this assignment in the beginning. However, theyindeed were pleasantly surprised when Dana Crider was able to walk so confidently using prosthetic limbs as this is reportedly first case of implant in the country wherein a patient more than i50 Kgs of weight has been successfully implanted a prosthesis.
In India, maximum size of a prosthetic foot available is 30 cm whereas there was a requirement of a foot that was 34 cm in size in his case according to his weight. Therefore a special customised prosthetic foot proportionate to his weight was procured from Bradford in the UK. This imported prosthetic limb weighed around 2.5kg, almost one kg more than a standard limb.
This is reportedly a 'medical miracle', a lot of credit of which is being attributed to the patient Dana Crider who not only displayed resolute will before implant surgery but also tried hard and lost weight after surgery in order to become more mobile. However he is very humble and gives all the credit to the Almighty who enabled him to go ahead with a 'Never give up' spirit. He candidly admits that his love for the mountains and his involvement with his NGO Keen which engaged in environmental protection and recycling certainly contributed to his achievement of this rare feat.