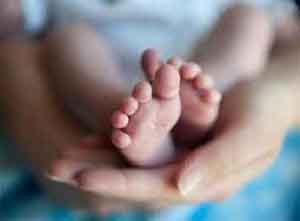 UK: A 15-minute brain scan called thalamic proton magnetic resonance (MR) spectroscopy (MRS) could help in the diagnosis of brain damage in babies up to two years earlier than current methods, with an accuracy of 98%, finds a new study published in The Lancet Neurology. 
Sudhin Thayyil, Director of Centre for Perinatal Neuroscience, Department of Medicine, Imperial College London, London, UK, and colleagues conducted the study to determine the accuracy of thalamic proton magnetic resonance (MR) spectroscopy (MRS) biomarkers as early predictors of the neurodevelopmental abnormalities observed years after neonatal encephalopathy.
Also Read: Medical miracle : US doctors reverse brain damage in drowned toddler
Neonatal encephalopathy affects 2–8 in every 1000 live births and carries a high risk of death or severe disability. Therapeutic hypothermia has been shown to reduce this risk but many treated infants still go on to develop substantial lifelong disabilities.
Any child suspected of having some type of damage is given an MRI scan shortly after birth. This allows doctors to look at black and white pictures of the brain see if any areas of the brain look lighter than others, as this may suggest damage. Doctors then use this information to give parents an estimation of the extent of the damage, and the possible long-term disabilities their child may face.
However, this method is only between 60-85 percent accurate, and relies heavily on the radiologist's individual judgment, meaning the prognosis can vary depending on who assesses the scan, and where the scan is done. Hence health professionals can only confirm if a child has lasting brain damage when they reach two years old, by assessing whether a youngster has reached their development goals such as walking and talking.
In the new research, involving the study of over 200 babies at seven hospitals across the UK and the USA, scientists used MR spectroscopy to assess the health of brain cells in an area called the thalamus, which coordinates a number of functions including movement and is usually most damaged by oxygen deprivation.
The scan specifically tests for a compound called N-acetylaspartate – high levels of which are found in healthy brain cells, called neurons. A level of 9-10 is found in healthy neurons, whereas a level of 3-4 indicates damage.
The technology used is the same as that needed for an MRI scan, and only requires the baby to spend an additional 15 minutes in the scanner. The scan was performed at the same time as the routine MRI scan when a baby was between four and 14 days old.
The scan does not carry any additional cost to the NHS, and the data can be easily analyzed using special software by any radiographer.
Also Read: Lack of oxygen, not excessive stimulation, cause for half of seizure-related brain damage in epilepsy
"At the moment parents have an incredibly anxious two-year wait before they can be reliably informed if their child has any long-lasting brain damage. But our trial – the largest of its kind – suggests this additional test, which will require just 15 minutes extra in an MRI scan, could give parents an answer when their child is just a couple of weeks old. This will help them plan for the future, and get the care and resources in place to support their child's long-term development." said Dr. Thayyil.
In the trial, funded by the National Institute for Health Research and the Medical Research Council, all of the babies had received so-called cooling therapy immediately after birth. This is now a routine treatment for newborns with suspected brain damage and involves placing a baby on a special mat that reduces their body temperature by four degrees. Evidence has shown that cooling the body can help reduce the extent of brain damage and reduce the risk of long-term disabilities.
The babies then had their brain scan soon after this therapy, and detailed developmental assessment at two years of age. The results suggested the MR spectroscopy at two weeks accurately predicted the level of toddler's development at two years old.
"Thalamic proton MRS measures acquired soon after birth in neonatal encephalopathy had the highest accuracy to predict neurdevelopment 2 years later. These methods could be applied to increase the power of neuroprotection trials while reducing their duration.," concluded the authors.
For further reference follow the link: https://doi.org/10.1016/S1474-4422(18)30325-9