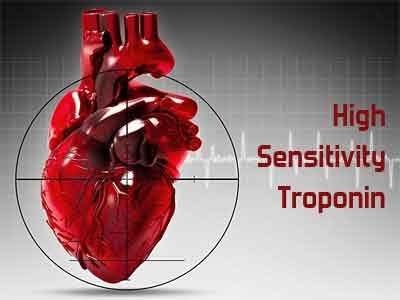 Diagnosis of AMI in suspected patients of ACS is always a difficult issue for a clinician.
This is so , especially when the diagnosis of AMI is necessitated with the diagnosis of Myocardial necrosis, it is necessary to diagnose the evidence as early as possible.
Neumann and colleagues tested a 1-hour diagnostic algorithm to diagnose AMI using a high-sensitivity troponin I assay (hsTnI) with a new and lower cutoff level of 6ng/L.
Biomarkers in Acute Cardiac Care (BACC trial) was a prospective study that tested an hsTnI assay for the 1-hour (versus standard 3-hour) diagnosis of AMI in 1040 patients (65% male, median age, 65 years) presenting to the emergency department with acute chest pain suggestive of AMI. The results were validated in 2 independent cohorts comprising 4,009 patients.
Non-ST segment elevation myocardial infarction (NSTEMI) was diagnosed in 184 patients by measuring troponin T (using a standard assay) on presentation and after 3 hours, combined with clinical data, imaging, ECG and clinical judgment. Patients were assayed for hs-TnI at presentation and after 1 and 3 hours and followed for 6 months.
Using a low hsTnI cutoff value of 6 ng/L, the rule-out algorithm showed a negative predictive value of 99.8% after 1 hour for NSTEMI type 1. Similarly, a rule-in algorithm based on troponin I levels provided a high positive predictive value with 82.8%. Also, the use of the 6 ng/L cutoff resulted in lower follow-up mortality (1.0%) compared with the routinely used 99th percentile (3.7%; p=0.001) for this assay. The findings were validated in 2 independent cohorts where the cutoff showed similarly high negative and positive predictive values. The 1-hour approach was statistically comparable to a 3-hour approach.
The investigators concluded that patients with suspected AMI can be triaged within 1 hour of presentation to the emergency department with no loss of safety compared with a 3-hour approach, when a low and sensitive hsTnI cutoff is applied. This concept enables safe discharge or rapid treatment initiation after 1 hour.
References
1 Neumann JT, Sorensen NA, Schwemer T, et al. (Westermann D, senior author).Diagnosis of myocardial infarction using a high-sensitivity troponin I 1-hour algorithm. JAMA Cardiol. 2016; June 1.
2ESC 2015 Late-Breaking Clinical Trial: Accurate and rapid diagnosis of myocardial infarction using a high sensitivity Troponin I 1-hour algorithm. Presented on August 30 by D Westermann. Discussant, J Alpert.
The following two tabs change content below.
supriya kashyap
Supriya Kashyap Joined Medical Dialogue as Reporter in 2015 . she covers all the medical specialty news in different medical categories. She also covers the Medical guidelines, Medical Journals, rare medical surgeries as well as all the updates in medical filed. She is a graduate from Delhi University. She can be contacted at supriya.kashyap@medicaldialogues.in Contact no. 011-43720751
Latest posts by supriya kashyap (see all)